By Cheyenne Weber and Jay Jackson –
More than 43 total  passengers lay dead on a river bank in Tunoshna, Russia, late Wednesday afternoon.
Nearly all of them were hockey players who played in or who had some connection to U.S. ice hocky.
"A Russian jet carrying a KHL ice hockey team crashed into a river bank Wednesday while taking off in western Russia," reported Scott Burnside and Pierre LeBrun from the Associated Press.
The plane was carrying 45 people with 37 from the Lokomotiv ice hockey team. They were traveling from Yaroslavl to Minsk to play the opening game againist Dinamo Minsk of the Continental Hockey League.
The crash was devastating news throughout the NHL and hockey fans in Penn Manor.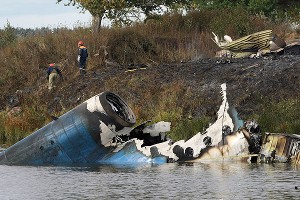 "Though it occurred thousands of miles away from our home arenas, this tragedy represents a catastrophic loss to the hockey world — including the NHL family, which lost so many fathers, sons, teammates and friends who at one time excelled in our League," commissioner Gary Bettman said. "Our deepest condolences go to the families and loved ones of all who perished."
"It was a tragedy, I was shocked and the NHL lost some good players,"  said senior Penn Manor NHL hockey fan Ian Toomey.
This accident adds to another horrific plane crash in a already cold September week.