By Alicia Ygarza –

Who's the real princess? Pippa or Kate?
Kate Middleton's younger sister, Pippa, has suddenly grown increasingly popular and has even been considered the "funner, hotter" sister.
"To a certain section of British men, she's become the most eligible girl in England," said Catherine Ostler, editor of Tatler Magazine to an ABC News interview.
"At parties, people are always terribly keen on talking to Pippa. And she has a magnetic effect on men," said Ostler.
According to US Magazine, Pippa and Kate are publicized as the best of friends but they do have a healthy rivalry.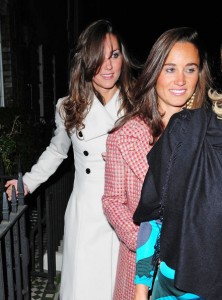 "She was the sister who sparkled," according to US Magazine's The Making of a Royal Romance.
According to that article, when Kate went to Marlborough C0llege, the students didn't recall noticing her.
"Pippa was always more liked at school than Kate because she was very outgoing while Kate was more of a loner," said an insider in an article in Style Forever.
According to USA Today, Life Line Live, while "racy" pictures of Pippa swarm the web of her in a white skirt and purple bra dancing with a man in his boxers, pictures of Kate pushing a shopping cart while standing on the back of it are the most "racy" pictures people have seen of her yet.
The sisters look identical with their large bright white smiles, button noses and large brownish hazel eyes. Which one would you prefer to date or hang out with?
"I would prefer to date Kate. She has sexy dimples and a beautiful smile. Pippa looks older than Kate and has wrinkles," said Angel Sanchez, a student at Penn Manor.
"I would rather hangout with Pippa. From what I've heard she seems like more fun and she's more attractive than Kate," said Troy Diffenderfer, a student at Penn Manor.
"I'd rather date Kate because she has a nice body and her hair is prettier than Pippa's. Pippa has no swag, she's an alcoholic and she has a big forehead," said Shahir Wahidullah.
It seems British and American men don't have the same taste in women.