By Matt Ulmer and Connor Hughes –
It's over, done.  Their high school career is behind them forever.
June 2  is the last day of high school for Penn Manor seniors.  It's an exciting, nerve racking time for most.  Some are  worried about the future, some are giddy with anticipation and some are just taking it day-by-day.  But each student has their own post-high school plan.
Okay, the final day isn't completely serious.  Seniors used the last day to recapture their favorite memories, see some in-school friends that they may never see again and to give their farewells to their favorite teachers and administrators. There's even the classic "lunch clap" that breaks out during the last lunch.
Ben Clark never wants to forget the good times he had at Penn Manor or the friends he made.
"I've enjoyed chilling with friends.  This is the place you can always come back to, it's the people you keep up with, stay in touch," said Clark.
Darius Howard is anticipating his freshman year in college.  He is attending Shippensburg University in the fall.
"I'm excited to go to Ship to play football and talk to cheerleaders," said Howard with a smile.  But, he has some concerns.
"I'm worried about injuries and trying to get a starting position," explained Howard.
Howard will have to balance studies, sports and relationships without dropping the ball.  He's been looking forward to playing football in college his entire life.  That should be just the motivation he needs to have a successful college career.
Ryan Mays is attending HACC, then plans to transfer to Temple.  Although, he isn't sure that he can support himself on a limited budget after high school.
"I'm a little bit worried about the financial part of college.  Like paying for tuition, books, and student loans after college," admitted Mays.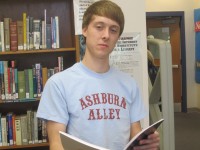 "All I have to do is work hard and everything should work out by itself."
Kendal Phillips is uncertain about her future.  She's attending York College, but her major is undecided and she has no clue what she wants to spend the rest of her life doing.
"I'm just worried that I won't know what the next step is," she said.
But, are they prepared?  Can they withstand three hour lectures and the 40-60 hour work weeks? Can they acclimate to the college or work life?
Caitlyn Whirt already has her future already planned out.
"I want to be able to handle all of my classes and prepare for the LSAT (law entree test) and go to law school," she said.
These questions have been racing through the minds of many seniors who are nervous about their future. However, they realize Penn Manor has done a great job of preparing them.  Required community service, resume construction, and other graduation project requirements are part of the preparation the seniors have for the real world.
As the last day comes to an end and cameras flash, hugs are shared, and shouts of joy fill the air. Although, it's obvious to know inside every rejoicing senior there is that thought of conclusion that sheds a tear of sadness.
Seniors who have met the graduation requirements will be marching to Pomp and Circumstance to get their diplomas at F&M Tuesday at 7 p.m.
Then they will disperse into their own worlds.