By Simon Zimmerman-
It's now or never.
The Penn Manor girls lacrosse team will take on Cumberland Valley at Lower Dauphin High School tonight at 5 p.m.
Under the leadership of Coach Jim Miller and team captains Maddy Hess, Caroline Lovett and Alicia Burns, the Comet girl laxer's have performed their way to a 17-4 record. All four losses have come from the Comet's arch rival, Manheim Township, who have been the team's poison this season.
"I have been very proud of my players this season, they have worked very hard and have the record to prove it," said Miller.
The girls need this win to move onto states or they will face elimination and the end of their season.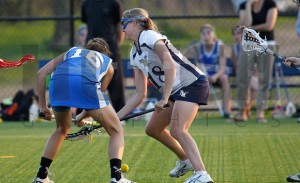 For some Penn Manor seniors, this could be their last game under the bright lights of a lacrosse field ripping twine for the pride of the Comet's girls lacrosse organization.
Although this could be their last game, the seniors and captains are very confident.
"I am very excited because I know we will win, the possibility of losing hasn't even crossed mine or my team's minds," said senior co-captain Caroline Lovett.
In the result of a win, the girls would travel across the state to Pittsburgh for their first round of states where they would play High School teams out of the Pittsburgh region of the state.
The thought of the long distance burden of traveling to Pittsburgh might defuse some players ambitions to take the title of state champions, for others, it will only add to the flame.
"The teams that will be playing in the Pittsburgh region will be lower ranked, so we will have a greater opportunity to win at least the first two games of states," Said Junior Defensive player Megan Schlegemilch.
The thought of making it to states may excite the team, but all of their focus is on tonight and getting the W.