By David Mohimani-
The champs are here.
No not the song by Jadakiss, the Penn Manor girls 4 x 800 team.
The girls have already captured gold in both the league championship meet as well as in the district III championship meet at Shippensburg University this past Saturday. Also they were able to set a school record for the 4 x 800 at the Hempfield Invitational.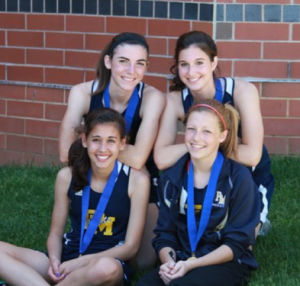 Senior Kate Maisel, junior Emily Novak, and freshmen Meghan Maisano and Greta Lindsley make up the championship squad.
Coming into the season the Comets knew they returned a solid squad that would be able to compete, but to take home a district title with a two unknown and inexperienced freshmen did not seem likely.
Lindsley was a stand out during the cross country so to say she was an unknown may not be totally accurate, but you never know how skills in one sport will translate to another, but Maisano came from left field to have an impressive freshmen campaign with a promising future.
Now the girls are preparing to make a run, no pun intended, at the state title.
The girls will run Friday at Shippensburg University, they are seeded eight out of the the top twelve teams advance to the finals which take place on Saturday, and the top seven teams place.
"Yeah (I'm nervous )," said Lindsley
However competing in cross country may have helped Lindsley ,who finished first in league playoffs for cross country,diminish some of her nerves.
"It sure helped," said Lindsley.
While they've had a magical season their chances of winning seem a little bleak.
"If we want to win we have to drop 15 seconds," said Lindsley.
While a state title may be out of reach, a new record could be possibility.
"If we have people in front of us pushing we could do it.
Being a freshmen has not put any added pressure on Lindsley, "I think it's more pressure on the senior."
Maisano is also nervous for the race, " Yes( I'm nervous) because he ( their coach) told us that we have to run a second faster."
Unlike Lindlsey, Maisano does feel a little added pressure being just a freshman, "I guess so because I want do better."
Maisano claims that she is not competing against Lindsley and that they are a team, no one is trying to out- do each other.
Senior captain Maisel does not seem scared of the bright lights of the state championship meet, "I'm confident that we will make it to the finals but nervous because we have to run all out, and it's going to hurt," said Maisel
Win or lose, this will be Maisel's last track meet ever.
"I feel like I need to leave it all on the track because it's my last meet ever," said Maisel.
Maisel a four-year varsity letter earner is at the end of a remarkable career.
"I feel proud because I worked hard and it paid off, especially the last few years. I'm really thankful, I've had great teammates.