By Cassey Graeff –
Rah Rah!
Pompoms, pleated skirts and stuck up girls kicking their legs and yelling for the home team.  It's not like that anymore.
In a new development over the debate whether or not cheerleading is a real sport, two groups are asking the National Collegiate Athletic Association to recognize cheerleading as an "emerging sport" for ladies, a precursor to full status as a championship sport.
Penn Manor senior Jessen Smith has a different opinion, "Personally I don't think cheerleading is a sport, but I recognize what the ladies are doing out there and I think it's important."
USA Cheer and National Collegiate Athletics and Tumbling Association are the two groups working toward making cheerleading a championship sport.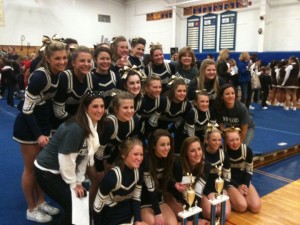 If this is a success, cheerleading would begin to be fully financed, could recruit scholarship athletes and send them to a national championship. The request is for the athletic form of cheerleading, which is also known as competitive cheerleading. Competitive cheerleading has rigorous competitions and high standards.
The two associations are not trying to make sideline cheerleading a sport.
"Cheerleading should be a sport, but at the same time different safety rules may be applied. Who knows, you may see cheerleaders wearing pads. These safety rules could take away from different techniques and cheerleading would not be as interesting," said senior Eric Bear.
According to the New York Times, "Historically, cheerleading has been about supporting athletes, not about being an athlete," said Barbra Osborne, a scholarship basketball player who graduated from the University of Wisconsin-Parkside in 1982 and who now advises universities on gender-equality issues.
Penn Manor's cheerleading coach Cindy Bachman said, " I feel that competitive cheerleading should definitely be a sport, because to be a competitive cheerleader you have to be very athletic."
A rule for Penn Manor cheerleading is that you must cheer for a school sport in order to be a member of the competitive team.
"If competitive cheerleading became its own sport you possibly could not have to cheer any school sport, which would then affect the school cheerleading team," said Coach Bachman.
Many women sport supporters agree with the idea. According to the New York Times, "As long as it's actually operating as a sport, we welcome it into the women's sport tent," said Nancy Hogshead-Makar, the senior director of advocacy at the Women's Sports Foundation.
Senior cheerleader Sam Eshleman said, "Cheerleaders get hurt more than other teams, so it should be classified as a sport. It's extremely aggressive."
Jill Zimmerman agrees with the idea of cheerleading becoming a sport.
"I think cheerleading has changed so much overtime and the girls that spent their whole life cheering deserve it," she said.
One group that supports cheerleading becoming a sport is USA Cheer. They are backed by Varsity Brands, a for-profit company that sells pompoms and uniforms and has been running cheerleading competitions at high schools and colleges for decades. The second group is the National Collegiate Athletics and Tumbling Association. This group "comprises six universities that have been competing against one another for the last couple years and have the support of USA Gymnastics."
"Cheerleading should never be considered a sport in any way. It's kind of like Nascar, something fun you want to do," said Casey Wells.
"In 1898 a medical student at the University of Minnesota picked up a megaphone and led his football team to victory in a chant widely credited with giving birth to modern-day cheerleading: Rah, rah, rah! Ski-U-Mah! Hoo-Rah! Varsity! Varsity! Minn-e-so-tah!" according to the New York Times article.
"I think cheerleading becoming a sport would be cool, it creates more opportunities for women," said senior Brian Ramsey.