By Connor Rowe –
The season continues.
The Penn Manor girls Soccer team just finished their regular season with a record of (14-3-1). This season the Comets had something to prove with their last season ending without a playoff birth.
The soccer club proved their franchise had a fluke year and that they are back on their mark as they qualified for both league and district playoffs.
The improvement from seasons wasn't a surprise for the girls.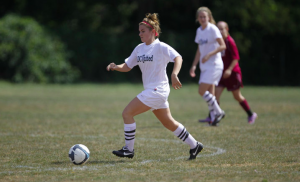 "Our team chemistry is a lot better," senior Emily Hutchinson said.
"There aren't any clicks on our team; we're a family," she added
The Comets will open up their playoffs with Donegal tonight at 7 pm at Warwick High School
"This is the first time we played Donegal in about 10 years and we want to beat them. They were back to back state championships," Hutchinson said.
"We need to play hard, but more importantly, play smart," Sophomore Lindsay Hutchinson said.