By David Mohimani –
Friend request denied.
Camereon and Tyler Winnklevoss, the nemesis of Facebook's founder, learned Monday that their settlement agreement from 2008 with will be upheld.
Even though they are not happy about it.  They want more.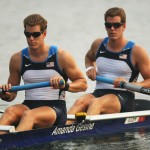 The twins, both Harvard graduates and Olympic rowers, filed a lawsuit against Zuckerburg back when Facebook was first starting,  accusing Zuckerburg  of stealing the idea from their website ConnectU.
In 2008, the Winklevoss boys agreed to a settlement of $20 million and gained ownership of $65 million in Facebook shares.
The Winklevoss's however tried to renege on this agreement after Facebook was valued at a much higher appraisal than they or their lawyers anticpated at the time.
After an investment by Goldman Sachs last year of $500 million, the company was valued at $50 billion.
The attempt to reopen the settlement squelched by a San Francisco appellate court Monday.
The Court ruled that, "The courts might have obliged [with a continued lawsuit], had the Winklevosses not settled their dispute and signed a release of all claims against Facebook. For whatever reason, they now want to back out. We see no basis for allowing them to do so. At some point, litigation must come to an end. That point has now been reached," the judge wrote.
For now the Winklevoss's will have to row their way home.