By Alex Blythe-
The White House is holding a nationwide contest to select one high school to win a graduation speech by President Barack Obama. The contest is based on the readiness of students for college and future careers. Last year's contest winner was Kalamazoo Central High School.
Senior Josh Carle thought it would be cool to have the President speak at Penn Manor's 2010-2011 graduation.
Another senior, Eric Clark had a different opinion. "I don't care, if it was him rather than the valedictorian or the salutatorian, then yes."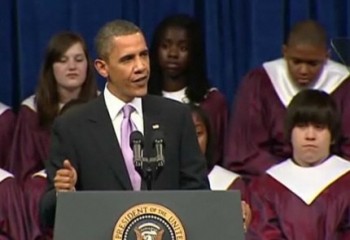 This year there is a shortage of applicants for the competition and the deadline is quickly approaching. The deadline was moved from February 25 until Friday, March 11. As of February 28 only 68 applications were received out of more than 1,000 schools around the country.
"I wouldn't submit an application myself but it would be inspiring if he did come," stated Carle.
The officials are not sure why the applications haven't been pouring in, maybe it's a lack of interest in the idea or just plain procrastination.
"I wouldn't (submit an application), unless I thought we deserved it," said senior Ally Emmert.
According to CBS News, the White House is asking staff members, "friendly congressional, gubernatorial and mayoral offices," to urge schools and students to apply.
A junior at Penn Manor, Brian Geer, didn't have much of an opinion on the contest.
"It might just be weird," he joked.