By Bobby Rehm –

School, sports, and stress. How do some students stand it?
For many high school students, sports play a large role in their lives. The experience of spending extra time after school at practice is a common one for many. Sports are simply a part of high school, but is it too much for students sometimes?
Stress is almost always a part of the lives of students. School work, relationships and grades are all contributors to stress and sports add even more to the mix. For many, jobs also add some lovely stress.
Many student athletes find themselves tired, exhausted, or somewhat stressed.
Brock Kauffman, a senior on the varsity wrestling team, finds himself feeling the same way. Though the stress gets a bit high, he finds that it's not too bad.
"Yeah it's manageable," he said.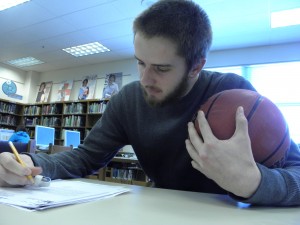 What's the most stressful part of his day?
"Waking up for morning runs for sure," said Kauffman.
There are many ways to handle stress. Depending on how a person reacts to it, there may be different solutions to help manage the body's stress levels. Counselors, students, and stress experts all agree that awareness of stress is the first step to preventing and reducing it.
Another student athlete, Connor Rowe, agrees with Kauffman. Rowe, a varsity lacrosse player and team captain, also finds being a student-athlete controllable.
"Being a captain adds some stress, but it's manageable," he said. Both students earn As and Bs and also have jobs in the summer.
Although being a student-athlete can be stressful, to most, it's simply not that bad.