By Connor Hughes –
Half the school, one spectacle.
As half of the student body enters the auditorium for assembly A, there's a buzz throughout the hallways.  The musical preview can be an exciting time for students. It's a break from classes, and the cast always puts on an exceptional show.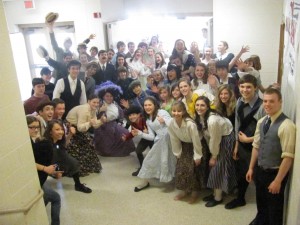 As principle Eric Howe attempts to seat the hectic students, I sit back with my camera anxiously.
The stage manager, Cheyenne Zuck and assistant stage manager Sarah Zerfoss introduce the cast.  They were clearly nervous for the words they had to say.  After they left the stage, the orchestra started to play.
They played, and played and played.
It went from a feeling of anxiousness to a bit awkward quickly.  After about five minutes of just music and murmurs from the crowd,  I was already thinking something went wrong. But then, the curtains finally opened and out came the cast.
Then the stars came on.  Matt Noll conducts the train as Cody Goldberg, Tim Deubler, Brian Buckius, Jesse Graham, Joe Gordon, Jared Bonawitz, and Nick Charles ride along and sing a very interesting first scene.  It must have taken perfect timing to execute the quick change of pitch from all of the cast members.
I take out my camera and snap my first picture, it comes out dark and blurry.  I snap another and the flash goes off… everyone within a 20-foot radius turns around with judging eyes.  When I realize I can't hide the fact that it was me who created the giant distraction, I sheepishly say "sorry" and give up on taking pictures for the time being.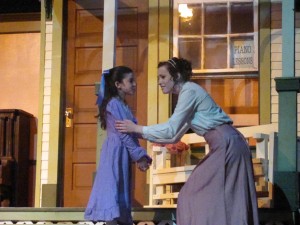 When the next scene begins with Tim Deubler taking the stage, all eyes were on him.  He grabbed the attention and didn't let it go until he was completely off the stage.
Where did the little kids come from?  Elementary schools in Penn Manor apparently.  They sure are recruiting young.
Although, the kids were in the perfect spot, they were almost prepared as well as the high school students.
Miss Teen Pennsylvania, Jill Wiley, did an exceptional job as always with her Disney-quality voice.  Penn Manor has been watching her for four years now and she never ceases to amaze.  Along with Hailey Fafel, who plays Amaryllis, the aspired pianist who has a crush on someone who is afraid to speak a word to her, the singing was exceptional.
Overall the crew did a great job.  The choreography lead by Donovan Hoffer was executed perfectly.  The plot didn't draw my attention much, though, and the non-existent cliffhanger at the end didn't help. Maybe the full version of the play will draw audiences into the story line.
To see the cast in action with the prolonged version of "The Music Man", the dates are March 4, 5 and 11, 12.