By David Mohimani –
The 2011 boys rec league championship started fast with an opening three by sophomore Travis Wells and it ended nearly just as fast.
The Magic led by seniors Mark Curtin and Connor Rowe jumped out to a 15-0 lead over the Sixers.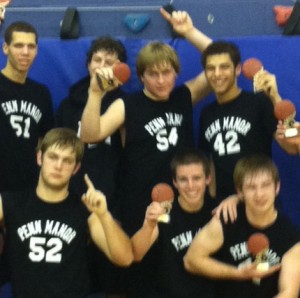 The Magic played a suffocating two-three zone that led to Sixer turnovers and easy transition points. It was clear that the Magic had gone over the scouting report, they were able to hold prolific Rec league scorer senior Garret Young to one point in the first half.
"We just tried to tire him (Young) out, I mean Dudley Rowe came up with a great game plan, the harder he works in the back court the harder it is for him to score."said Mark Curtin.
The Sixers significant size advantage turned to disadvantage quickly when their lack of foot speed and poor stamina was exposed by the smaller, quicker Magic.
After getting out to the early lead, the Magic never relented, keeping a consistent double-digit lead that was never truly threatened.
Curtin, while a very adequate and adept scorer, chose to play the role of distributor in the championship game.
"I mean Steve Nash is one of my idols,  I was just trying to distribute," said Curtin.
The Sixers were clearly frustrated by the aggressive zone and never seemed in rhythm offensively. They were held to just a measly 15 points in the first half and 35 points in total.
Some doubted that the Magic were a championship caliber team.
Rowe said that before the game Young called him out saying that he was not a "scorer."
Clearly they were not affected by the critics.