By Brian Dunne –

The Penn Manor Comets pulled out a "W" last night during senior night in a match against Columbia.
The victory in the last league match of the year brings the Comets season to 6-3.
The match kicked off with Cory Swartzentruver wrestling for the J.V. Swartzentruver's match was short as he pinned his female opponent in 28 seconds.
Senior wrestler Kyle Kann was winning his match when an unfortunate injury occurred and he was forced to forfeit. He injured the shoulder that has been giving him trouble all year.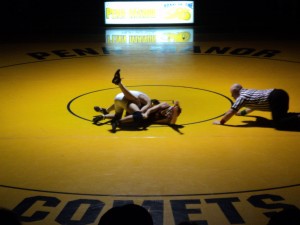 The varsity match started off with junior Tyler Funk pinning his opponent in the first period.
Comet seniors who won were Bobby Rehm, Ryan Costerella and Evan Singleton.  James McElroy won by forfeit.
Penn Manor posted wins in matches with wrestlers Matt Schneider, Austin Stetler and Colby Graham.  Deion Valentine won through forfeit.
"I like to go hard on senior night," said wrestling stand out Rehm before the match. "But the guy I'm wrestling has had two concussions this year, so I'm going to take it easy."