What is the only sport that you can eat nachos while playing?
Bowling, and Coty Johnson excels beyond all others.
The returning state bowling champ is looking to repeat this year, and feels confident.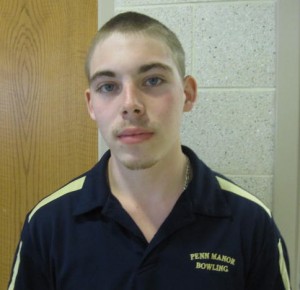 "My gut tells me I've got a great chance of winning again," exclaimed Johnson.
The statewide competition begins in two months. Right now Johnson is leading the local bowling league with a very high average, 223 to be exact. The average pin-fall closest to his is 210. So far he's the front runner to reclaim the state championship. His biggest competition graduated last year, giving him even more of an advantage.
"I feel the same as I did last year (leading up to the competition) so I'm hoping to do good," said Johnson.
While Coty is catching fire, the team is on ice with a poor record of 33-14, leaving them in 4th place. He said he hopes they step it up.
As March approaches and states inch closer and closer, Coty Johnson continues to prepare for the inevitable repeat at states.
By Jake Shiner and Simon Zimmerman