Back-to-back hopes drive the Comets field hockey team.
Tuesday night the Comets took on the Hempfield Black Knights, for the third time, in the district semi-finals.
The Comets would complete a three game sweep of the Knights. Blasting them 6-0, 6-2, and 4-1. This time, it would put the Comets in the district finals.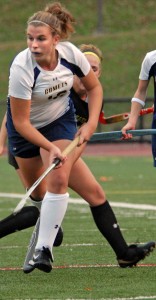 Comets' Madelyn Hess and Emily McCoy added goals, while Renee Suter added two.
"The game was pretty exciting. We played sloppy in the first half, but controlled the second half," said Hess, who added one of the four goals for the Comets.
"We calmed down and realized we could score and we broke them down," said Matt Soto, head coach for the Comets.
The Comets will play Hershey, the winner of a huge upset against Lower Dauphin, Saturday at Milton Hershey at 2:30p.m.
"We need to stop their #1 goal scorer, and we have to score on them. They haven't seen the type of scoring power we can do all year," said Soto.
The Comets will look to win back-to-back district titles and continue their tradition of winning.
By Jessen Smith