Let's see if hard work pays off.
That's the attitude of many students in Amy Wall's Marking and Law class. As they compete against others in their class, in the Apprentice Competition for the next week, they do everything they can to make the most amount of money for their team.
There are four groups competing against each other, trying to advertise and sell their product better than the others.
"Sweetness" is selling puppy chow, gum and soda, "White Rabbit" is selling milkshakes and tie-dye t-shirts, "Thundercat's Milkshakes" are selling obviously milkshakes and "That Fish Shack" is offering a game where you can win goldfish.
"Mr. Zeigler started it about ten years ago," said Wall, a business teacher at Penn Manor.
"Part of it goes up for donation, and how you place, you get to pocket like all the money," said junior Alex Murr.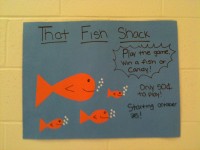 There are many things that go into this hands-on project. In the class students learned how to grab people's attention. Some of the techniques the group, "Sweetness,"  used were hanging up big signs, having everything on the table so people could see it and wearing shirts that go along with what they were selling.
One of their tactics was to have a costumed White Rabbit walking around the cafeteria to promote their merchandise.
"They get to apply everything they learned," said Wall.
"You have to balance something that's good with price," said Murr. "You have to take into account advertisement, which costs money. You can get sponsorships, but we don't have any."
The groups had about three weeks to a month to work with their group to come up with an idea and presented their plan in front of the class last week.
"We started out with a $100 loan that we have to pay back," said Murr.
"The money comes from the Penn Manor Education Foundation," said Wall.
The most successful group she ever had in her class made $700 after paying back the deposit, and the least amount of profit made was a mere $8.
All four groups are doing so well that at this point it's still anyone's game.
"If we're not in the lead, we're in the top two," said Murr.
"I think were doing pretty good, but I honestly don't know," said Abby Buckwalter. "It's messy and annoying."
Buckwalter is a part of "Thurdercat's Milkshakes."
Now that they have started selling their goods, they realize how messy it is to make milkshakes at such a fast pace.
After a few days of actual business, many groups figured out what they should have done differently.
"The T-shirts are a little pricey," said Michael Weber, a group member of "White Rabbit."
Many groups participating in this project stick with selling food and drinks, but one group decided to take a chance and use something different.
Junior Suarez, a group member in "That Fish Shack" said, "We might be the underdogs because we chose a different idea."
However the novel idea seems to be working out so far.
"Right now the gold fish group is in first place, as of this morning," said Wall.
By Liz Lawrence and Brian Dunne