Carter James Basile, a purely Penn Manor baby, was born on the tenth day of the tenth month of the tenth year of the new millennium.
Brandy Basile, a counselor at Penn Manor High School and formerly known as Brandy Yocum, gave birth to her baby boy at 9:08 that night. Her husband, Aron Basile, also works at Penn Manor High School as a teacher in the physical education department.
"Everything's going great," said Aron. "We only had one tough night."
Carter was born at five pounds, nine ounces, but recently started eating more and gaining the weight he needed to, said his parents.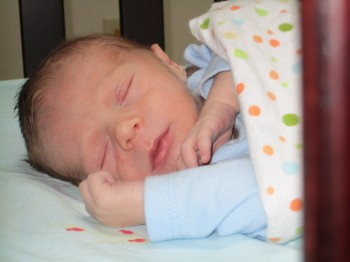 "He was a little peanut," said his father.
Although both Basiles work at Penn Manor, this isn't how they met.
"I had her younger sister as a student and she introduced me to her when I ran into her outside of school one afternoon," said Aron. "That was actually before she was a counselor here, and she was already in the process of trying to get hired at Penn Manor when we started dating."
Many people didn't realize that they were together until the word got around that they were engaged during Christmas of 2007. Before that, they weren't totally keeping it a secret, explained Aron, but they weren't going around with a flag telling everyone they were together, either.
The happy couple got married in April, 2009.
Mrs. Basile will be out for 12 weeks on maternity leave.
Mr. Basile, even though being both a girl's softball coach and a football coach at Penn Manor, said he will not force his son to play sports.
"I would love him to play baseball and football," he said,  "but I'm not going to shove a bat or ball in his hands. I'll let him chose what he wants to play."
They are both proud to be new parents and love their little boy entirely, they said.
Aron added, "He's like a new toy that you never wanna put down."
By Liz Lawrence