The Penn Manor Rocketry club has not only won the Transatlantic Rocketry Challenge and the title of the best student rocketeers in the world, they have made it to the national capitol.
"It happened so fast, we just confirmed it on Thursday," said rocket club advisor Brian Osmolinski. "We were pushing for this back in the summer."
The four original 2010 Penn Manor graduates of the winning team and Osmolinski were reunited for  a once-in-a-lifetime experience, a chance to meet President Barack Obama in Washington, D.C.
"Jordan Franssen and Nate Bernhardt got to meet Obama and shake his hand," said team member Tyler Funk.
Jordan Franssen, Brendan Stoeckl, Nate Bernhardt and Tyler Funk, as well as the team's coach Brian Osmolinski, participated Monday in a White House science fair.
The fair was put together to honor American students who have won science, technology, engineering and math competitions. The Penn Manor Rocketry club was one of only a dozen schools in the United States to show off their accomplishments.
The science fair includes a week of activities such as the USA Science and Engineering Festival, which is expected to intrigue more than a million people to view it at the National Mall.
Tyler Funk made it clear how many interesting people were at the fair during the rocket team's time there.
"The science fair had winners of different divisions of science showing off their accomplishments," Funk said.
World famous people were there as well.
"Jaime and Adam from Mythbusters  were there, and Bill Nye the science guy (Scientists on television shows)," he added.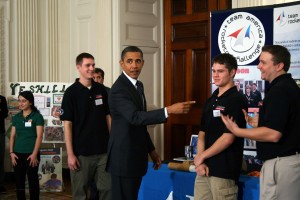 According to advisor Osmolinski, two members of the team participated in the main science exhibition in the East Wing of the White House from 10 a.m. to noon. The team members not directly involved watched the activities from the neighboring Eisenhower Executive Office Building.
Obama made a speech to the students about the need to improve American student's abilities in math and science. Obama spoke and meet individually with Osmolinski and the Penn Manor students involved in the science fair.
Franssen and Bernhardt told President Obama about their accomplishments. The President seemed genuinely interested in what they had to say.
"Well, you guys are like the top dogs," Obama told them.
Not only did the students get to meet with the President and famous figures in science, they got to meet officials from NASA and have discussions with other students in the fair.
It was a good day for science, and a great day for Penn Manor students to receive recognition for their accomplishments.
By Kendall Seigworth