Field hockey, once a girl-only sport, has turned masculine at Penn Manor High School.
Matthew Soto, coach of the Penn Manor's varsity field hockey team, is offering a chance for guy students at Penn Manor to play field hockey.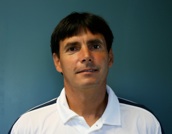 "So many guys have come up to me over the years wanting to play field hockey," Soto said.
Soto has coached field hockey for the last 25 years and is the supervisor of technical operations for the USA field hockey teams.
In 2008, Soto led the Penn Manor field hockey team to state championships and took the win.
"I love being a high school field hockey coach, but working with men is interesting, they're just so creative and athletic," Soto explained.
Aaron Lugo, sophomore at Penn Manor, was asked by Soto to compose a team.
Lugo never played field hockey before but is energetic and excited for this opportunity.
"I'm going into the game with a good attitude and will try my best," Lugo said.  "I've been hittin' up the weight room to get ready for the game."
Another team is in the process of being made and will be open to any guy that wants to play.
Once that team is made and both teams are ready to play, there will be a big game against the two teams.
Last Saturday, Soto and the guys had their first practice to learn the rules.
"The practice was very fun, but the kids were frustrated with the amount of rules they had to follow," Soto said.
Matt Slack, sophomore, is on Lugo's team.  After practice, he noticed that the guys already seem pretty solid.  "I can't wait until the next practice."
The winner receives the best prize of all, the satisfaction of learning how to play the game and having fun.
Each team will be composed of 12 players and practices will be held once a week.
To find out more, see Mr. Soto.
By Cree Bleacher