It was the best of art intentions, but it has become a complicated project.
What was planned as a single year, simple school beautification project has taken on a life of its own as obstacles and delays have set in for the past two years.
But the art students at Penn Manor are continuing to put their efforts toward improving the school's exterior appearance by completing a glass tile mosaic of Vincent van Gogh's "Starry Night" on a large cement retaining wall overlooking a newly installed koi pond.
"The inspiration for this project was a very, very ugly retaining wall in a beautiful courtyard," said Teri Hay the Penn Manor art teacher in charge of the Starry Night mosaic mural. "I just always wanted to put something on that wall. [The wall] idea started before the pond, 2008-09."
According to Hay, her fine arts, commercial art, and ceramics classes have all dedicated class time to work on the wall mural. The fall 2008 commercial art class created the idea of the wall and the other art classes added their own specialties.
"All of my art classes have worked on it for about a week," said Hay.
Four students were trained to place the artwork onto the wall, junior, Whitney Reno, and seniors, Nikki Dewitt, Chelsea Hahn, and Dasha Finks.
Reno will be in charge of teaching next year's chosen students how the artwork is placed onto the wall and how the past art students wanted it to turn out.
"I got out of my classes for two full days and I work on it during fourth block a lot," said Reno.
In order to finance the mural, the art department needed to apply for education grants.
According to Hay, most of the money came from PMEF, Penn Manor Education Fundation. Last year's student council also donated a fair share of money toward the mural.
With a big project like this, you'd expect several problems.
And there were.
"I didn't realize you had to prepare the wall to keep glass on the wall," said Hay.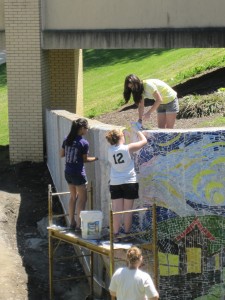 This problem caused the art department to spend extra money on hiring professionals to add wire mesh and concrete to the wall before the artwork could be displayed.
"That was an expensive, long project," said Hay.
"You have to work really fast, some tiles fall off," said Reno.
The wall project was expected to be finished within a year after being started, according to Hay, but will be continuing into its third year in fall 2010.
"Next year this time [it will be finished,]" said Hay.
For an update on the project, click on the featured video at right.
By Kendal Phillips