King James grabs it again.
The reigning MVP of the National Basketball Association, LeBron James, will be the reigning MVP for at least one more season.
James won this year's most valuable player award by a landslide. He had a total of 116 first place votes which was 112 more than the closest contestant, Kevin Durant.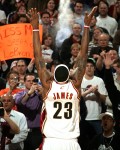 With averaging 29.7 points per game, 7.3 rebounds per game, and 8.6 assists per game, it isn't a wonder as to how James acquired this award.
He also carried his team, the Cavaliers, to the number one spot in the league with the best record.
Students around Penn Manor have great things to say about James.
"He is flat out amazing," said Junior, Jessen Smith.
"He will probably win the title five more years in a row, he is amazing," boasted Sophomore, Joey Jackson.
Even with thousands of supporters around the nation, there are still many critics of James.
"I don't think he should have won, Durant," said Robert Warfel.
Durant came second in the polls for first place votes for the MVP title but still lost to James by more than 100 votes.
James has proven to be an all around excellent player with his skyrocketing statistics and impressive leadership.
Now, all the King has to do is win his first championship to secure a spot as one of the greatest basketball players of all time.
By Simon Zimmerman