At a Jay-Z concert, you would think that the iconic rapper would suffice as entertainment. From what I saw, this was not the case.
Alcohol, marijuana, and even cocaine use flooded the Izod Center in East Rutherford, New Jersey one recent Saturday at the Hova (Jay-Z) concert where I sat in the audience.
Everywhere I turned I would see a lit blunt (a cigar with the tobacco taken out and replaced with marijuana) followed by a cloud of smoke with the potent smell of marijuana mixed in.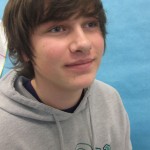 I would also see clearly underage young adults sipping on some brewskies while bobbing their heads to the beat.
I am not one to pass judgment on others, however, I was very surprised that authorities, security guards, or the Izod Center staff were not putting a stop to this illegal activity.
For instance, the row behind me was filled with a group of guys who were smoking a blunt. Their activity had not been called to anyone's attention until a hysterical pregnant woman came running in with three police officers, her finger pointed directly at the men behind me.
The officers then pulled them out in the hall. When the men returned they told my friend and I that the only thing the cops said was, "Everyone is doing it and we are only bringing you out so that woman will stop complaining."
This amused and shocked me at the same time.
It amused me because they completely got away with what they were doing.
It shocked me because the officers didn't do a single thing to discipline them.
But I suppose that the fuzz wouldn't be able to arrest  about 1,000 people participating in the same exact commotion.
It would be like a huge chain gang walking out of the stadium.
I guess  that when citizens outnumber authorities, illegal acts might  just have to be tolerated.
By Simon Zimmerman