Dance crazes come and go, but two high school students, experienced in breakdance, want to show their appreciation by teaching others.
What started as a fun hobby to do with friends, junior Marcos Rivera and senior Daryl Jarvis, plan to teach other students how to breakdance. The students have been dancing for years and now they feel the need to share their experience and expertise with others who want to learn.
In the meantime, they are hoping to fulfill a dream of becoming a breakdancer themselves.
"Everybody has a dream, when you get that [dream] it is really hard to follow through alone," Rivera, who hopes to become a professional himself, said. "That's what I'm here for, support."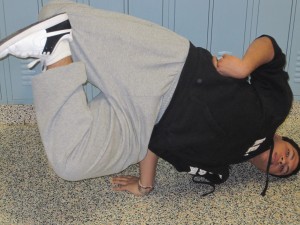 People have spent lots of time learning how to breakdance with Rivera and Jarvis who are sacrificing five hours out of their busy schedule, with school and after-school activities, to teach.
"I teach after school on Mondays and Thursday from 4 to 8 p.m.," Rivera said.
Rivera explained that if someone is not sure if this is for them, there are a couple of ways to get into the hype of breakdancing. There are many movies that have people breakdancing in them, or you can go to a place where people actually perform.
By Mike Bouder