Eagles quarterback, Donavon McNabb, says he is staying in Philadelphia. What does this mean for Michael Vick's future?
The Eagles could keep the two quarterbacks because Vick brings the "wildcat" to Philly. The wildcat formation is a direct snap to a running back with an unbalanced offensive line.  That's a good thing but name a team that has kept two high profile and good quarterbacks on the same team.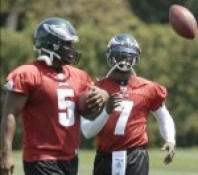 Look at David Garrard and Byron Leftwich in Jacksonville in 2007. The Jags ended up keeping Garrard and waiving Leftwich.
Another example is Tom Brady and Matt Cassel who both played for the Patriots in 2008. The Pats ended up trading Cassel to the Chiefs.
Vick could help out any team that needs a starting quarterback, especially since Vick wants to be a starter. Every quarterback in the NFL wants to be a starter, so the chances are good that number 7 won't be on the field for the Eagles next year.
By Sam Valentin