Its last year.  I'm sitting on my grandma's step waiting for the bus to go to school at 3:00 in the afternoon.
That's right 3 p.m.
Unusual right?
But that's a regular schedule for a night school student.
That's right, night school.
Night school, where all the kids who don't have their life on track go. Suddenly I was one of the those kids.
As a freshman, you are introduced to so many new things and you get so much more freedom than ever before. You think you're unstoppable, well; at least that's how it was for me and my friends freshmen year.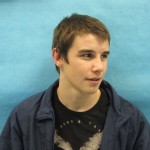 That year, I got mixed in with the wrong group of kids. I thought they were the popular kids and the ones that were having the best time. I wanted to be the popular kid. So I went and made the biggest mistake of my life just to be a popular kid in school. I bought drugs. Being a freshman, thinking that I was unstoppable, I showed the drugs off on the bus.
That next Monday, I was called to the office with no second thought about the drugs. I was sitting in the office getting interrogated by two principles. They started to tell me the disciplinary actions. The whole ordeal becomes a nightmare and I just wanted to wake up.
From being the kid that has never got into any real big trouble for anything to the kid who suddenly became a major screw-up.  When my dad walked in the office door, I couldn't even look at him just because I knew he was so disappointed in me.  My parents were more disgusted than ever about everything.
This was the worst chapter of my life. I felt like there was never going to be an end to my punishment and that I was going to sit at home all summer long while my classmates were out enjoying their high school years.
It got to the point where I would live my life during the night.  This way I wouldn't have to be around anyone. I ended my last ten days of freshmen year at my house and it still wasn't over. I had a punishment of a minimum of 45 days in night school, 25 hours of community service, drug and alcohol classes and a chance of not being able to wrestle the next year. My whole life was wrestling.
That first day of night school, I was more nervous then the first day of elementary school, middle school and high school put all together. Not knowing anyone or what you were in for and not one person you had anything in common with, except your crime.
Night school was not as bad as I thought except I couldn't see my friends; go to football games or homecoming.  But it changed my life around and made me smarter about my decisions. The good news was that, after 45 days, I returned to day school and was able to wrestle.
That's right, I'm back on track.
By: Tyler Keith