It was one out in the eighth inning. Mariano Rivera made his way to the mound while he and, "Enter Sandman" gave Phillies' fans that certain feeling that seems that your heart is beating five times faster.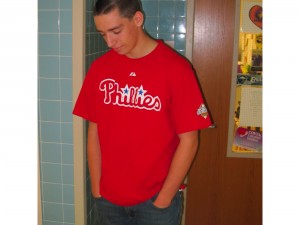 With a four run cushion, Rivera shut down the game, Series, and Phillies' hopes to win back-to-back World Series'.
The air was electrified in Yankee Stadium as Mark Texiera caught the ball from Robinson Cano with his foot on first base to capture the Yankees their all-of-sports leading 27th World Championship.
While the city of New York and all of the Yankees' fans here, there, and everywhere were having the time of their lives celebrating their first World Series in nine years, Phillies' fans in Philadelphia, and also Penn Manor, were in the totally opposite situation.
"I'm upset," Taylor Groff, a Phillies' fan, said, "I was. I'm a Phillies' fan."
He also had a word to Yankees' fans in Penn Manor.
"I think Yankee fans have to go back to New York. This is Pennsylvania," he said.
Gary Luft, a math teacher who is a Phillies' fan, had to wear a Yankees' shirt because of a little bet between fellow teacher, Sean McKnight, a Yankees' fan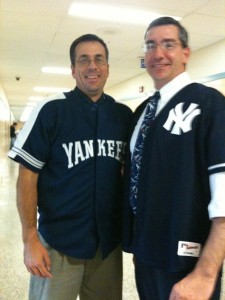 "I'm upholding my obligation," Luft said about his attire the day after his favorite team lost to the team whose jersey draped his shoulders. He made sure to put a Phillies' sweatshirt over the Yankees' jersey. He also said that he doesn't feel too bad about the outcome of the 2009 World Series because the Phillies won last year.
Although most Phillies' fans would be angered by the fact that some students wear Yankees' shirts, hats, etc., Luft doesn't really mind it.
"I think it's a great conversation piece," he said. And of course he added a smart comment about the Yankees – maybe to make him feel better about his team losing.
"They can buy their Championship next year," Luft said.
The math teacher may not mind seeing Yankees' apparel around the school, but that isn't the same with another Phils' fan.
"It feels like you're at the bottom of the toilet," Kyle Hallet, a Phillies' fan said about the Phillies losing and seeing Yankees' clothes around, "and a Yankee fan is about to flush it."
Most Phillies fans are bummed about the end of the Phils' season, but they still have their Championship last year, and they got to the Series this year and gave the New York Yankees a tough opponent.
Phillies fans probably won't be watching ESPN for a couple weeks while Yankees fans everywhere will be celebrating, capping it off with the parade in New York City on Friday.
By Alex Geli