The Penn Manor field hockey team has won its first section title since 1986.
The Comets beat Donegal 3-1 at an exciting game Oct. 22,  avenging last year's loss to the Indians in the section title game.
The Comets scored their first goal when Nancy Stehman assisted Jill Witmer in the first sixteen minutes of the game with the team's first shot on goal.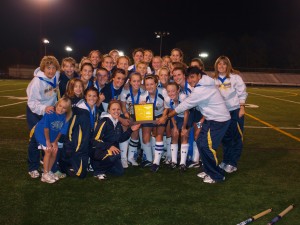 Coming into the game after halftime,  Kirsten Gochnauer scored the Indian's first goal and tied the game.
Witmer then scored her second goal of the night, assisted again by Stehman with only six minutes into the second half.
Kelly Harsh then put the Comets in the lead for good, when she scored off of a tipped corner shot from Witmer.
By: Damien Oswald