The difference between 'involvement' and 'commitment' is like an egg-and-ham breakfast: the chicken was 'involved' – the pig was 'committed'.
Kaleb Long, a committed and involved 16-year-old hog raiser, says that "some pigs are hard to get rid of 'cuz you like 'em."
Long, one of the top hog showmen in Lancaster County, started showing hogs at the age of 8, when he decided to raise hogs himself instead of having to buy other people's hogs.  Now he has 32 sows of his own that he breeds, and sells the piglets to butchers or other hog raisers or FFA members.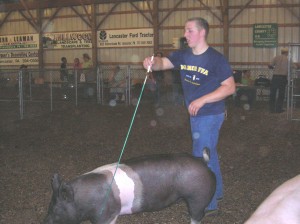 Recently at the Lampeter Fair, Long, was ranked a top hog showman after showing his two hogs.  He and his brother, Cameron, have made it to national levels with their show hogs.
Long will be showing his market hogs, which are butcher hogs, at the Pennsylvania Farm Show this January.
During competitions, the hogs are judged on a few different things,  including the amount of muscle, and how they walk, Long explained.  He also shared that the best part of the fairs is just having fun with the other FFA members.
Only about 25 percent of the Penn Manor FFA students show animals at fairs.  The rest go to support their friends and have fun, as well as participate in the other community events, such as the pig chase and orchard freeze.
The brothers started their business when Kaleb was 14-years-old.  Long says that most of the money they make goes back into the business to buy supplies that they need in order to keep their business up and running.
Long said that they started by selling their hogs to neighbors, who told other people, and "word spread fast."
Long explained that he has to get up by 5:30 every morning to make sure the piglets are warm, and to feed them.  Once he gets home from school, Long needs to feed them again, check on all the equipment, and even give shots to some of the piglets.
The hogs for show typically have less fat, so they look trimmer, whereas the hogs sold to butchers have more fat and are less eye-appealing, Long explained.
Females are mostly for showing because of the way they walk.  They are also kept longer for breeding purposes.  Males aren't needed as long, so they are sold to butchers.
Long says that his family only butchers one or two a year for themselves, so they sell most of them.  The average hog weighs about 250 pounds, and they make about 50 cents per pound.  That works out to  about $125 profit per hog.
Long plans to continue his business throughout high school, and maybe after.
Another FFA member is also a determined business owner.  Chris Cook and his brothers are the founders and owners of "Cook Brothers Lawn Care," located in Mountville.
Cook switched from Hempfield High School to Penn Manor for it's outstanding agricultural program, to help his business.  Hempfield is paying tuition for Cook to come to Penn Manor, because agriculture classes are not offered there.
He does not show animals, but he helps at the fairs by working at the FFA's Orchard Freeze stand, which sells all natural slushies, "for all natural people," Cook said.  He also helps with the kid's fair.
The 18-year-old is taking business management courses in hopes of furthering his business knowledge, along with classes such as agricultural equipment and floriculture.
There are ups and downs of his career, the most rewarding being meeting new people and having the satisfaction of completing a job, he said. However, Cook shared a story about how after completing a job, the customer's wife sprayed the plants and killed everything he worked so hard on, and then blamed him for it.
Despite those problems, Cook plans to continue his career in landscaping.
These ambitious business managers already have a head start on their productive futures.
By: Brittany Burke and Alyssa Funk