The bulls-eye on the Comets' backs just got a lot bigger for teams trying to overtake Penn Manor field hockey.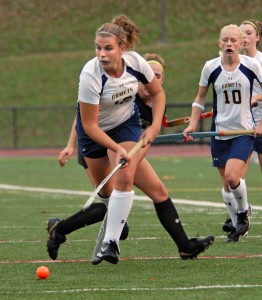 "Every team out there wants to beat us or even just score on us," said All-American Renee Suter.
The Comets were recently ranked number one in the nation by a high school field hockey national-ranking website, www.topofthecircle.com. The Comets are currently 15-0-1
Lancaster is one of the top counties in the nation for field hockey according to Suter. "This makes it not very unusual for a team inside central Pennsylvania to be ranked number one," Suter said.
Last year the Comets won the state championship and hope to have the same results this year.
"We have very high expectations and truly do hope to have similar situations as last year," said head coach Matt Soto.
The team is lead by Jill Witmer, who is being heavily recruited by the University of Maryland, the number-one, college-ranked team in the nation. Witmer is trying to take the role of some of the key seniors who were lost from the previous season.
"Some players think it's best to be totally under the radar, and to not be familiar with their rank," she said.
However Suter doesn't have a preference either way.
"I mean Lancaster County is such a good area for field hockey that they know most teams in the area are good and they expect it," said Suter.
"It's just now it's public that we are number one in the nation," she said.
"For us as a team, it doesn't matter who knows or not, we are going to play hard no matter what. Last year we weren't ranked number one and it didn't matter, we still played hard and won states. We haven't changed because we will continue to play hard no matter what rank we are."
The Penn Manor Comets will continue to attack their goal of another state championship.
By: Connor Rowe