Starting forward and defense on Penn Manor's soccer team, Ashley Vellucci and Ambria Armstrong had to make a slight adjustment to their kicking game when Jeni Dellinger brought a football to club soccer practice one day.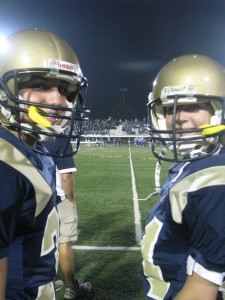 The day after soccer practice, Vellucci and Armstrong decided to go out for the kicking position on the football team.
Ever since, they've been part of the team. The teams record stands at 6-1
Scott Lackey, a member of the football staff, said "Initially they (the team) thought it was going to be a distraction but as they came around more and proved they could do it, they accepted it."
At first people around school made jokes and comments about it but on the football field they "welcomed us with open arms," Vellucci recalled.
On the first day, Vellucci and Armstrong practiced kicking field goals with coach Bill Beck all day.
The game against Exeter was the first time the girls got to experience and feel the hype and excitement of being a part of a football team and standing on the sidelines.
During that game, Vellucci made a 31-yard field goal and a pair of extra points.
Vellucci said, "I like being on the sidelines more than sitting in the student section."
Vellucci said she was "really nervous and shaky" when she finally got her chance.
Not having a physical was the downfall for Armstrong when game day came around and she was ineligible to participate in the game against Exeter.
But she was allowed to stand on the sidelines with Vellucci and help her practice her kicking game, and be there to cheer her on.
There's no competition between the girls due to the friendship they've been sharing for many years, they have class together everyday, help each other at football practice and hangout on weekends they said.
Armstrong has a good memory of her first time on the field.
"When a little girl walked up to me and Ashley with a little Nerf football and asked for both of our autographs," said Armstrong with a smile, "I was surprised. It was really cute and exciting to see that the community had a positive reaction to us."
By: Damien Oswald and Alex Geiger